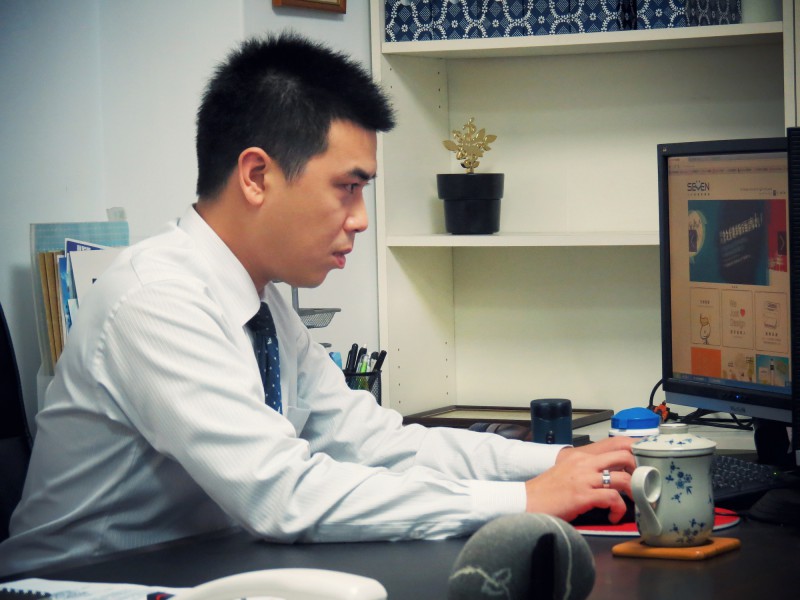 Business operation with cloud service- SEVEN
Hong Yucheng
CEO of Seven Limited
"We had to make a change to improve our organization. If we had stuck with our old ways we wouldn't be able to move forward. In the social media world not moving equals degeneration."
"We had to make a change to improve our organization. If we had stuck with our old ways we wouldn't be able to move forward. In the social media world not moving equals degeneration."
"Which is more important, to increase income or to reduce expenditures?" asked CEO Hong. Both are vital to the success of any company and Vis-a-Vis, Cloud based sales reporting manager, helps you to accomplish both by improving customer acquisition to increase revenue and streamlining business processes to reduce expenditures.
Seven realized that the new millennium requires a new integrated approach to business. With its "Design Manager" program, Seven helps companies bring their marketing campaigns to social networks, like Facebook, more effectively.
 To expand the reach of the Social Network Housekeeper, Seven used a five-person team to call prospective clients who needed Facebook Network Management.
"Each call needed to be recorded in its entirety as this can influence our ability to meet our sales targets," said Hong, stressing that their previous system of using Excel to create reports on their calls was inefficient and labor intensive. "After starting to use Vis-a-Vis we improved both our working efficiency and increased our sales by a third." CEO Hong believes that "work is easy, you just need to focus on one thing and do it well and Vis-a-Vis helps us do sales development well."
Any Device, Any Time, Anywhere
 "We had previously been using more primitive Excel and ERP," to manage call reports, said Mr. Hong. The search to find a replacement led Seven to Vis-a-Vis as a more efficient and easily customizable alternative. "We are able to choose the fields that our most relevant to the demands of sales calling and our industry," reducing time expenditure and errors because "sales doesn't have to think about what to record." Further, Vis-a-Vis's Indicator function makes report classification a breeze, letting reports be filed under entirely customizable categories like "Submitted Proposals", "Customer Requests", "Leads", "Follow Up". Using these Indicators, managers and sales teams can quickly keep abreast of all new developments.
 One of the key benefits of using a Cloud based service like Vis-a-Vis is the ability to access the system from any internet enabled device. With native support for iOS and Android, Vis-a-Vis stays at the heart of any operation. Mr. Hong opines, "Perhaps in the future, all we'll need for the sales team are tablets, which would greatly decrease our hardware costs."
Advancement through the ranks of Seven is based on merit, where reaching targets decides promotion, raises, and other benefits. Previously, "performance evaluations had an element of managers' personal biases and opinions."
Implementing Vis-a-Vis has allowed Seven to more closely align their evaluations with employees reaching goals. "Using an employee's ID, I can look back at all their sales reports in a one, three, or six month period. This lets me check everything about the sales, such as the number of calls, the customers visited, and how many deals were reached," said Mr. Hong. This centralization of information on the Cloud gives Seven a much better facility to evaluate its sales force.
"We had to make a change to improve our organization. If we had stuck with our old ways we wouldn't be able to move forward. In the social media world not moving equals degeneration."