Fashion meets cloud computing, a perfect mix between fashion and technology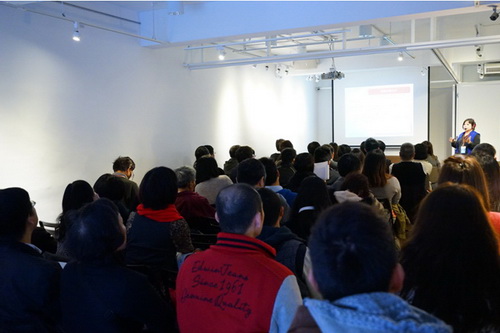 Instructor Lin Yong-Ci believes that after the merging of the fashion retail industry with e-commerce, the need for effective customer relations management tools is now increasingly more evident.
On January 9th, GSS and the Tiandiren Institute together hosted the "When Fashion is Confronted with Shift Toward Cloud Based Customer Relationship Management: Customer Analytics Drive Sales Performance and Growth" conference. The conference took a less traditional approach to holding an information technology conference. Instead of the talks being completely tech-based, the focus of the conference was on cross-industry exchange. Lin Yong-Ci, the Vice President of fashion brand STAYREAL and an iconic member of the fashion industry was invited as the key speaker. During the event, Lin Yong-Ci first shared stories from her years of experience in the fashion industry, then provided detailed analysis of the current state of the competitive environment since the integration of fashion retail and e-commerce. Lin further engaged in exchange and discussion with participants throughout her talk.
 Lin first discussed how brands send customers the message of "we care," providing them with the best value, capturing customer loyalty, and finally, creating brand stickiness. Through interaction with participants, the importance of customer analytics and brand marketing was then touched on. Lin states that, "Behind the monetary value of the product itself, when customers are choosing what to buy and what not to buy, the brand attached to the product plays a large part in the decisionmaking process. And the ability to effectively reach out to our core customer base, depends largely on having the perfect customer relationship management tool. Since the integration of fashion and e-commerce, change has occurred within the fashion retail industry at an ever increasing rate, resulting in an increasingly competitive market. In order to succeed, brand managers must continuously innovate not only to develop new clientele but also to retain the interest of core customers.
 GSS Vice President Flora Hu believes that GSS set the trend for future information technology conferences by stepping outside of the box, bringing the discussion over fashion retail and technology into the same room. The event further introduced practical solutions for customer relationship management in fashion retail (GSS's VIdegree Customer Management System). Hu is also excited to see businesses utilizing cloud based CRM to invigorate their marketing and daily operations processes, creating higher value and effective management systems. (Su Song-Tao Reporting)
Vital
想了解更多產業經驗
歡迎致電諮詢:02-2592-6609 | Email:vitalcrm@gss.com.tw
聯絡我們